Sunny 16 Rule
Wed, Mar 4th, 2009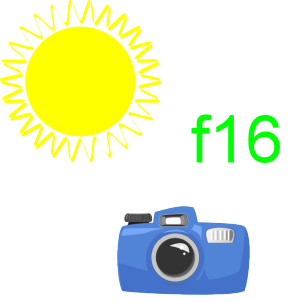 I think vintage folding cameras are very cool because they fold small enough to fit into a jacket pocket or stash away easily in a backpack. There's one problem though; most vintage folding cameras have no way of metering the light. Does this mean to get good pictures you must also carry a separate light meter? I thought so, until I learned about the 'Sunny 16' rule.

The sunny 16 rule is this: When taking a photograph outside on a clear sunny day the image will be properly exposed if you set the aperture to f16 and the shutter speed to the same number as the ISO of the film loaded in the camera. For example, if your camera is loaded with ISO 100 film, set the shutter to 100 (or the closest speed to it which is 125 on newer cameras) and the aperture to f16 and the picture will be properly exposed. Using this as the basis for a proper exposure, you may adjust either the shutter speed or aperture as you see fit to achieve your desired end result. Just remember when you adjust one you must adjust the other to compensate and still be at the proper exposure setting. For example, on a clear and sunny day you decide instead of f16 1/100 you would rather decrease the depth of field by opening the aperture a bit. You decide on f8 which is two stops larger. To keep the proper exposure you will need to adjust the shutter speed two stops faster to 1/500.

However, you are not limited to taking pictures only on clear, sunny days. On a mostly cloudy day, open the aperture to f11. On a day with light overcast, open the aperture to f8. On a heavy overcast day f5.6 is likely to work best. One way to determine the difference between a slight overcast and heavy overcast day is by looking at your shadow or the shadow detail of the person you are photographing. There will be slight shadow detail on a light overcast day and no shadow at all on a heavy overcast day. The time of day must also be taken into consideration. Early morning just after sun rise and late afternoon just before sunset f8 usually works on a sunny day. If there are clouds in the sky you will need to use f5.6.

When I take pictures using the Sunny 16 Rule, I use black and white film. I do this because B&W film has higher exposure latitude than color film meaning you will still get an acceptable picture even if you over or under expose a bit. I don't recommend using the Sunny 16 Rule with color film due to its less generous exposure latitude. To be honest, I've never used color film with this rule for that reason but have been tempted many times. For photos you just can't live without it's best to use a meter but in the absence of one I recommend bracketing your shots. To build confidence taking pictures using the Sunny 16 Rule I recommend going out and taking some pictures. Be sure to take a small note pad and note the exposure settings for each frame. After developing the film make some contact prints and if you followed the Sunny 16 Rule correctly, I'm sure you will find satisfactory results. The Sunny 16 Rule is not a substitute for the TTL meter on your SLR but for the old cameras with no meter at all it works great!