Netduino Plus Microcontroller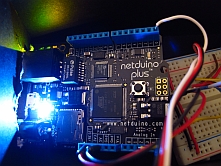 Recently, (late spring 2012), I have been tinkering with the Netduino Plus microcontroller. This microcontroller uses the C# programming language and the .NET Micro Framework. The book, Getting Started with the Internet of Things by Cuno Pfister familarized me with this micro. For my first project using the Netduino Plus, I decided to make a home monitor system. I wired a TMP36 temperature sensor and a Passive Infrared (PIR) Motion sensor to the Netduino Plus which uploads the sensor data to a flat file on my web server (a Perl script re-creates the data file daily to keep the file size under control). I also have an old computer with a webcam hooked up to it uploading images to the server. On the server I have a PHP script that displays the images, graphs the data and displays the data in a table. What this means is, while I am away from home I can view the images of my home and sensor data from a web browser. Sounds geektacular doesn't it? I plan to intergrate a camera into the Netduino Plus eliminating the need for a seperate computer with a webcam. Perhaps, I will write a detailed project article about my home monitor system in the near future.
Autumn Eyes Advertisement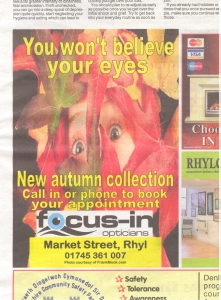 Late in 2009 I had my first photograph used in an advertisement. The photograph I named 'Autumn Eyes' was part of an ad for Focus-In Opticians an independent optician business in Rhyl, Wales. The ad was published in the October 28th, 2009 edition of Journal, a newspaper serving Rhyl, Prestatyn and Abergele. Perhaps this is the start of a future in marketing or ad photography. Autumn Eyes is a photograph of Sweetgum leaves my daughter and I picked late one fall afternoon in 2007. That same day I had the idea to photograph her eyes peaking through the leaves. As she lay on the floor with her head propped on a pillow, I carefully arranged the leaves. She was a very good model considering her age and the patients most young children have. I plan to photograph a similar photo using flowers of spring and summer which will be named 'Spring Eyes' and 'Summer Eyes' respectively. A winter theme is forth coming as well and as you guessed will be named 'Winter's Eyes'.